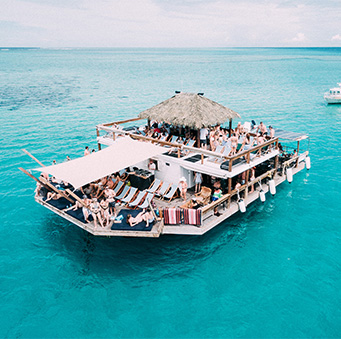 How Bulk Buying, Tech Innovation and Good Old Kiwi Ingenuity Allow THQ to Reign Supreme
There are three key factors in the success of THQ. Three simple things that have revolutionised the way in which we deliver experiential travel to our clients.
These three things are bulk buying, tech innovation and good old Kiwi ingenuity. An odd combination at first glance perhaps. However, without these important assets we would not be the ground breaking Kiwi travel company that we are today!
Let's take a look at how these three things allow us to reign supreme.
Bulk Buying
Bulk buying has allowed us to completely change the game when it comes to experiential travel. By bulk buying and mass booking we can achieve the best possible prices for our clients, create unbelievable all inclusive packages and offer experiences money can't buy.
Bulk buying is a simple principle; the more you buy the cheaper it gets. We can bulk buy or rather, exclusively charter resorts, sandbanks and party yachts, to name but a few. For this reason we can offer our clients the greatest VIP experience for the smallest of costs.
Our experiential travel packages are inclusive of flights, transfers, accommodation and activities. The best part? This is all available for as little as $1,499! This low end price point is only possible by bulk buying the facilities and resources we need to rock the show.
Low end price point, yes, but a high end experience time after time.
Tech Innovation
In order to best deliver our experiential travel opportunities we have implemented the use of cutting edge communications technology. We make use of our man (and woman) power to create out of this world experiences. Consequently we have employed the use of artificial communication entities, or chatbots. Because of this we can create a seamless, enjoyable and informative pre-departure process.
Our chatbot, affectionately named Guru, was created using high end tech innovations alongside creative input from our customer service team. Guru is able to converse and assess the individual needs of each of our clients. In turn, Guru seamlessly directs them to the most suitable of our Tourism HQ experiential travel packages.
Far from impersonal, Guru provides affable and friendly interactions for our clients. But don't fret! Our diligent customer experience team are only ever a phone call away should our clients want to talk over the phone. With Guru able to guide and advise on 70%+ of our client's pre-departure process, our customer experience team are able to direct their energies into further developing Tourism HQ's vast spectrum of experiential travel opportunities.
Kiwi Ingenuity
Good ole Kiwi ingenuity has been a vital component of our success to date. No matter how effective and diligent you are in planning and organising an event there are always elements that will blindside you on the day. We are proud to say that no drama has ever been to big for us to handle. Employing our outstanding teamwork, trust and open minded nature we have dealt with every issue that has come our way.
That said, perhaps it's our plucky, positive Kiwi nature, or perhaps it is thanks to Kiwi ingenuity steering us in the right direction. Thanks to this we have had a pretty smooth ride. By working closely with local suppliers, creating trusting relationships with the communities we work within, Tourism HQ has become the company everyone wants to work with.
The Kiwi ingenuity factor really comes into play when we think about taking opportunities and identifying gaps in the market that are crying out to be filled.
Whether that be creating Spring Break Experience for young Kiwis to travel abroad for the first time or the Fijian Cup designed to uplift grassroots players across Oceania, we feel that our intrinsic Kiwi ingenuity has afforded us the opportunity to seize control of the experiential travel market in New Zealand and the Pacific and reign supreme.