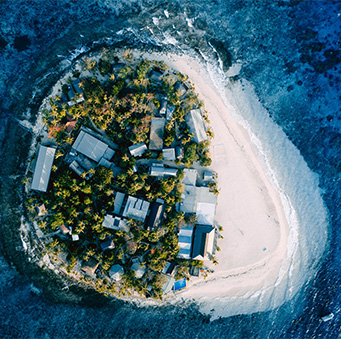 The curious partnership between Kiwi company THQ and Fiji
Fiji has, for decades, been one of the most highly sought after luxury travel destinations. For Kiwi's Fiji is an affordable and accessible destination ideal for a family holiday, long weekend away or even a honeymoon. For many it's an ancestral home.
Tourism HQ is a Kiwi based experiential travel company based in Auckland. From our humble office on Customs Street we have created an incredible partnership with communities in Fiji. As a result, we can provide unrivalled experiential travel packages to our clients.
Fiji is an awe-inspiring place. We firmly believe that tourism, when conducted in the right manner, can bring benefit and enrichment to the island communities.
Tourism HQ pride ourselves on the relationships we have developed with our friends and co-workers over in Fiji. Through a collaborative and open minded approach we are able to run unique and authentic experiential travel events.
Conscious to take nothing but the opportunity and leave nothing but positivity and profits in Fiji we have created four very different but equally incredible programmes in Fiji in which we work with industry leaders and on a grassroots community level too.
Let's explore the partnerships THQ has through our experiential travel packages.
BlueSky Fiji is our Tourism HQ baby! This was our first experiential travel event way back in 2012. We chartered a Boeing 777 and the whole of Sonaisali Island Resort and we've never looked back! BlueSky Fiji is Fiji's first ever international music festival!
By teaming up with the luxurious Fijian managed Sonaisali Island Resort and subsequently Mana Island Resort, Fiji Airways, George FM and the ever supportive Fiji Tourism Board we have created a tropical music festival that sells out in hours.
Our guests get the opportunity to experience the breathtaking beauty of Fiji and soak up the vibrant culture. Furthermore, they have access to money can't buy experiences. These include taking over sandbanks, rainforests, and floating pavilions all the way up to unbelievable underwater parties.
Rock Island Fiji was an evolution of our adventure into the Pacific with Tourism HQ. Consequently, following the huge success of Blue Sky Fiji back in 2012. Teaming up with Jim Beam Bourbon, The Rock FM and our network of incredible on the ground suppliers we have created a rock festival like no other.
Tourism HQ fly in top tier artists to our own private island in Fiji. Then, for five straight days and nights, we rock out in paradise!
Rock Island Fiji is only made possible because of our outstanding relationship with the Fiji Tourism Board and Fiji Airways.
The Fijian Cup is one of our proudest achievements. This is only possible because of the incredible work relationship Tourism HQ has developed in Fiji.
The Fijian Cup is an open, recreational touch rugby tournament designed to uplift grassroots players from New Zealand, Australia and Fiji too. The Fijian Cup is a four day celebration of pacific island sport within a union of cultural exchange, party and relaxation.
By bringing international visiting teams from NZ and Oz we are able to fly over international development coaches to run workshops with the local Fijian players. We plan to create Academy Fiji by 2020 in order to further uplift grassroots sporting talent in Fiji.
The Fijian Cup is an incredible, inspiring event made possible due to our partnership with Touch Federation of Fiji, Touch NZ and the Federation of International Touch. As well as Fiji Airways, Sheraton Fiji and the Fiji Tourism Board who pull out all the stops to ensure the Fijian Cup is an unforgettable week.
Building on our success with BlueSky and Rock Island we pioneered Spring Break Experience in Fiji. As our original Spring Break Experience we now run Spring Break FIJI across four weeks in November and December.
Spring Break FIJI gives young Kiwis the opportunity to experience Fijian culture and its natural beauty while being as young and carefree as they'll ever be. Designed to take the hassle and stress away from a first overseas trip without parents, Spring Break FIJI is simply the best travel and party experience young Kiwis could ask for.
As Tourism HQ has evolved, we have created incredible Spring Break Experience destinations across the Pacific. In addition, these include Vanuatu and Samoa. With Spring Break UPRISING we return to Fiji for our most community oriented experiential travel package to date.
Young Kiwis get the full Spring Break Experience filled with sun, sea and plenty of party. UPRISING also offers them the opportunity to volunteer at a local school, and take part in a locally led grassroots conservation initiative. Finally a truly valuable and fulfilling experience!
Through our extraordinary relationship with Fiji we are able to lay on phenomenal events and festivals in this wonderful country. We are grateful for the beautiful nature in which the communities we work with have embraced our daring and exciting travel experiences.